Melasma-X 3D Whitening Clinic Cream – 35ml.
Indications:
Removes brown spots, dark spots.
Supports control of sebum, reduces excess oil on the skin.
Prevent the entry of dirt and bacteria from the environment, especially in summer, during the dust and hot sun season.
Improvement and disappearance of dark acne scars thanks to licorice extract.
Tightens pores and brightens skin thanks to mulberry extract. Contains vitamins A, B and C to help prevent aging and wrinkles in the skin
Active Ingredients:
Niacinamide is a vitamin B3 derivative that helps to produce more ceramides, fatty acids, and collagen to retain all moisture inside, prevent water loss and improve skin elasticity.
Mulberry root extract: natural material with excellent whitening effect. Mulberry root contains a large amount of vitamins E, A, C, which are able to quickly penetrate into the skin, helping it to absorb the best nutrients, from which it becomes bright and free from dark spots.
Licorice extract: has a softening and soothing effect on the skin and is therefore used to treat a number of skin conditions. This plant is known to have anti-inflammatory properties, so it is used for the following dermatitis: eczema or atopic dermatitis, to remove freckles, blur dark spots, itching and dryness. Plus, the effects of licorice are most related to its anti-aging properties.
Ingredients extracted from other natural ingredients such as: cauliflower, blueberries, black beans, acai berries, raspberries, strawberries, lingon oil, cramberry, cheeks, lettuce, grape oil.
The most special ingredient is the peptide. A smaller protein molecule must penetrate deep into the dermis layer, supporting the production of collagen and elastin, helping to improve the skin, prevent wrinkles and aging.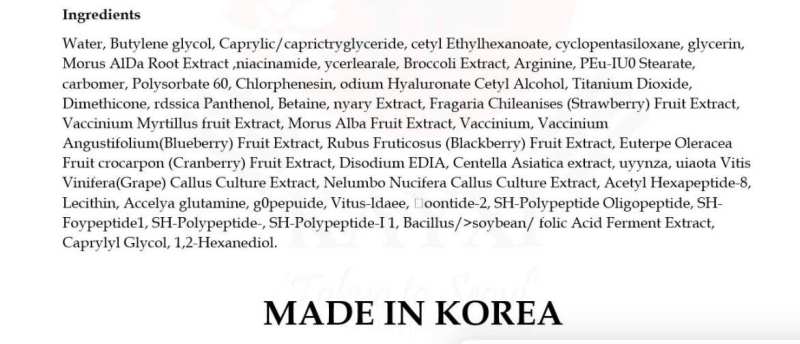 How to use Melasma-X 3d Whitening Clinic Cream:
Use regularly morning and evening.
Take a moderate amount of the cream and apply it evenly on your face, then pat gently to help the product absorb better.
| | |
| --- | --- |
| Product form | box |
| Quantity | 1 pcs x 35ml. |
| Storage conditions | Store at a cool place, protect from direct sunlight. |
| Country of production | Korea, Beaute |
| Expiration date | 2 years from date of manufacture |
Package Included:
1* box