Oyster Man  – 30 capsules from Vietnam
Oyster Man is a nutritional supplement that provides the body with essential trace elements. Using for support and improving sperm quality.
Supporting Men Improves Sex Life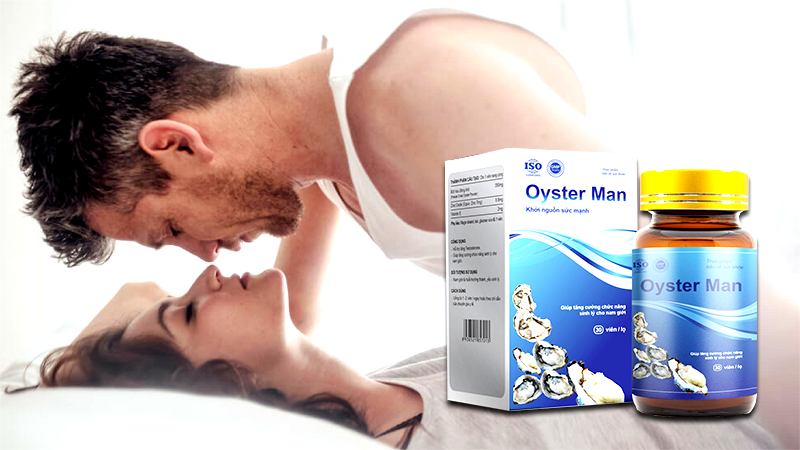 Support physical development by strengthening muscles with oyster compounds such as B12, iron, copper.
Oyster Man enhances the sexual function of men
Supports weak physiological problems, premature ejaculation
Helps reduce infertility rates, increases sperm count and quality
Supports an increase in endogenous Testosterone
Prevent prostate diseases
Extracted from 100% natural Oyster Starch
Oyster Man 100% extracted from natural oysters, is the safest and most effective for users. Oysters are known to contain the highest zinc content. According to statistics, 100 mg of oysters contain up to 47.8 mg of zinc, which is 9 times more than 100 mg of meat, and 60 times more than 100 mg of fresh fish. This is the factor that makes oysters "golden food" for male physiology.
Zinc is considered the number 1 factor in helping to improve male physiology, improve sperm quality. Because zinc is essential in the production of testosterone, the most important male sex hormone. Oyster Man is a capsule supplement that provides the body with essential micronutrients. In addition to adding fresh food to meals, most minerals can be lost during processing. The addition of micronutrients helps the body absorb better without any side effects.
Ingredients:
Oyster Man pills are mainly composed of Oyster and zinc (Zn). Besides, there are a few other auxiliary nutrients. Can include:
Ingredients for 1 Oyster man capsule:
Oyster Powder – 350mg
Zinc oxide (Equiv. Zinc 7mg) – 8.8mg
Vitamin E – 2mg
Magnesium stearate, talc, glucose just enough 1 tablet.
How to use:
Condition Indicator: Users have mild physiological signs of instability, 1-2 false Oyster box equivalents can be used within 20-45 days. This is the time it takes for men to improve their physiology and feel most effective.
Serious condition: users with signs of serious illness will be used in the 2nd course in the long term. In addition, it is necessary to follow the instructions of the consultant for optimal use of the process.
Improving physiology: men who need to improve their physiological function can take 1 capsule per day; 1 box of 30 tablets used for 30 consecutive days. Micronutrients not only help improve physiological functioning, but are also beneficial for muscles, bones, heart, and blood vessel walls. Essential mineral supplementation for health promotion is the right thing to do.
Ps.: This product is a supplement, not a medicine, so you can take as much of it as you like.
| | |
| --- | --- |
| Product form | 30 capsules |
| Quantity | 1 box 30 capsules |
| Storage conditions | Store at a cool place, protect from direct sunlight. |
| Country of production | Vietnam |
| Expiration date |  2 years from manufacture date |
Package Included:
1* Box