Turmeric is one of the skin beauty herbs that has been handed down for a long time with the ability to keep skin fresh, smooth and free of defects.  That is also the reason why many brands release turmeric cream, which has the ability to overcome disadvantages such as treating acne, aging, wrinkles, scars … Here are 3 unexpected benefits from turmeric cream the "parents" used to believe in ancient times.
1. Turmeric cream to fade scars
One of the most prominent features of turmeric is the herb's ability to heal scars. 
Experts explain that because they found substances such as cyclocurcumin, curcumin, turmeron turmerin present in turmeric, these substances together with curcumin inhibit cyclo-oxygenase, lipo-oxygenase capable of healing the skin.  This is the reason that mothers in the past often use fresh turmeric or turmeric powder mixed with fresh coconut water and apply on the scarred area to stimulate recovery of damaged skin, fade scars quickly.
2. Fix the signs of aging with turmeric cream
Turmeric is also considered to be an excellent exfoliator that can overcome the signs of skin aging.
A recipe that is spread a lot is to use mung bean powder and turmeric starch in the same ratio and then use them to make a mask. Under the support of green tea, this is a method to improve wrinkles on the skin, limit signs of aging, help whiten skin at home effectively.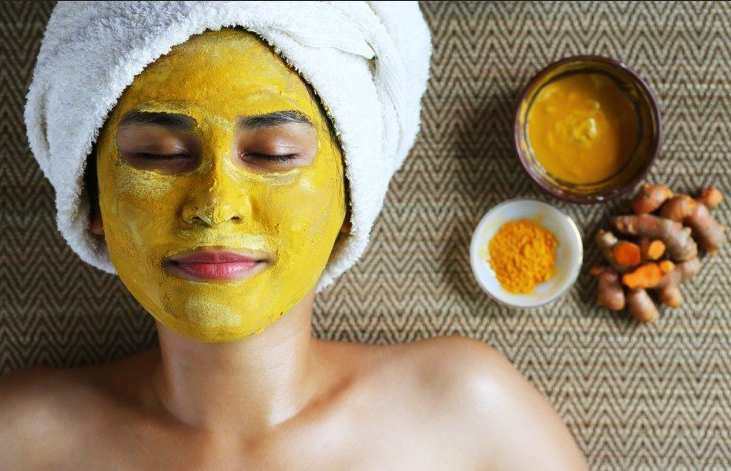 3. Turmeric cream prevents acne
One study has shown that curcumin in addition to being able to prevent cancer, alzheimer, diabetes, allergies, arthritis … is also quite effective at preventing acne thanks to its anti-inflammatory properties due to total suppression. Combination of eicosanoids helps prevent acne formation.  Furthermore, research also found that insulin is one of the hormones that cause acne while curcumin can lower blood sugar levels, improving insulin resistance thereby indirectly preventing acne.