1. General description Derma Forte
Derma Forte is a skin lightening and acne treatment gel with the main active ingredient of 20% Azelaic Acid. This acne cream comes from the Vietnamese cosmetics company Alcom. Azelaic Acid is considered to be a very effective part of treating under-heavy acne and brightening the skin. Moreover, Azelaic Acid is also quite gentle, so the skin's ability to respond is quite good and less irritating. This is one of the very affordable but also very effective products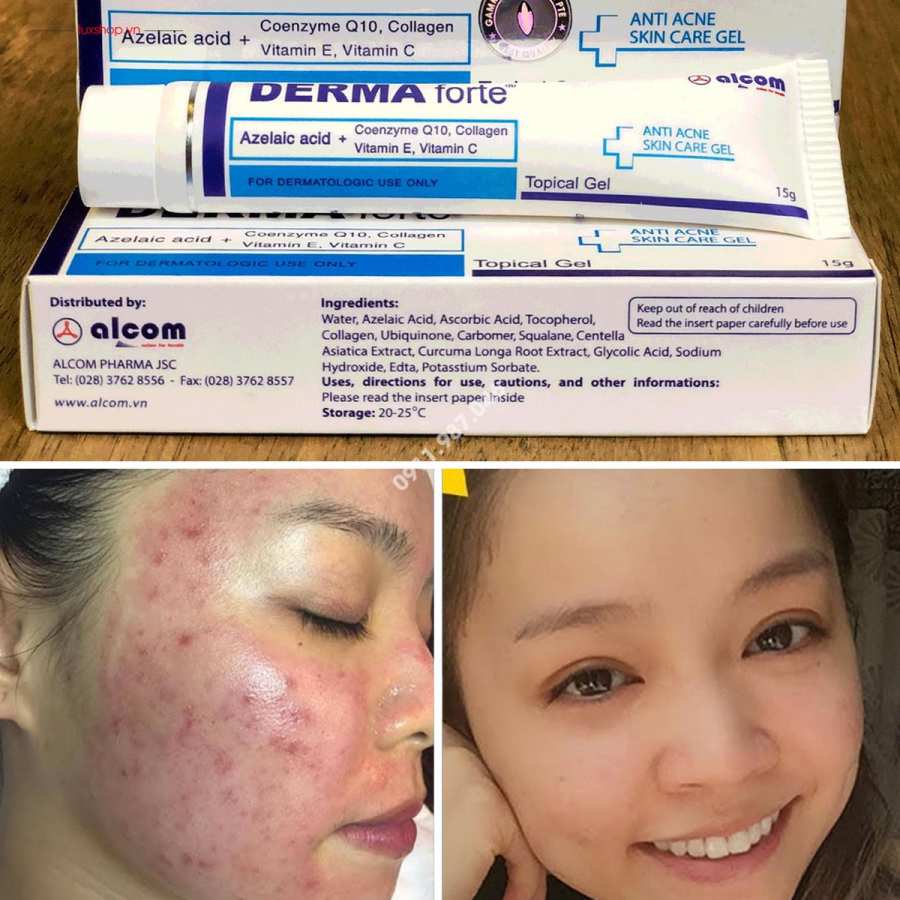 2. Ingredient
First, let's find out what ingredients of Derma Forte have and what effects are on the skin.
2.1. Azelaic Acid
Azelaic Acid is considered to be an active ingredient of AHA, it can induce inflammation and inflammation well, also has a mechanism to make the horny layer on the surface of the skin thinner. Azelaic Acid also inhibits the enzyme – the skin's melanin production. Therefore it has the ability to support the treatment of dark skin.
The Azelaic Acid concentration of Derma Forte is 20%. At this concentration, Azelaic Acid works more effectively and especially when it comes in gel form.  Azelaic Acid at a concentration of 20% has been studied to be equivalent to 2% Hydroquinone – an active ingredient that helps in treating dark spots and regulating skin pigmentation very well. In particular, Azelaic Acid is very safe and can be used for pregnant women.
2.2. Coenzyme Q10
Coenzyme Q10 is also known as co-enzyme Q or ubiquinone. This active ingredient is present everywhere in the living organism of animals. One of its main effects is the production of ATP (energy used by cells). Hence, it can provide the skin with antioxidants, which are essential in helping to maintain the beauty of the skin. Coenzyme Q10 can neutralize free radicals in the environment. It has an antioxidant effect which in turn has the ability to help soothe problem skin. For this reason, the use of skin care products containing CoQ10 may not only provide anti-aging benefits, but also soothe the skin.
2.3. Collagen
In general, Collagen is not really the main ingredient of Derma Forte but the collagen content in this product is Collagen amino acid which is able to increase the skin's moisture level and smoothness.
2.4. Vitamin E
The vitamin E in Derma Forte can moisturize the skin. It is also an antioxidant and aging agent for the skin.  Most of you experience dry skin when treating with acne creams, but with Derma Forte the phenomenon may be less common. This vitamin E is in its ester form, which is less blocked than conventional E.
2.5. Vitamin C
Usually acne skin should not overdo vitamin C as it can sometimes be the cause of acne. However, in Derma Forte, vitamin C is at a low concentration, only about 5%, so there is no negative effect, but also helps the skin to recover slowly from acne damage.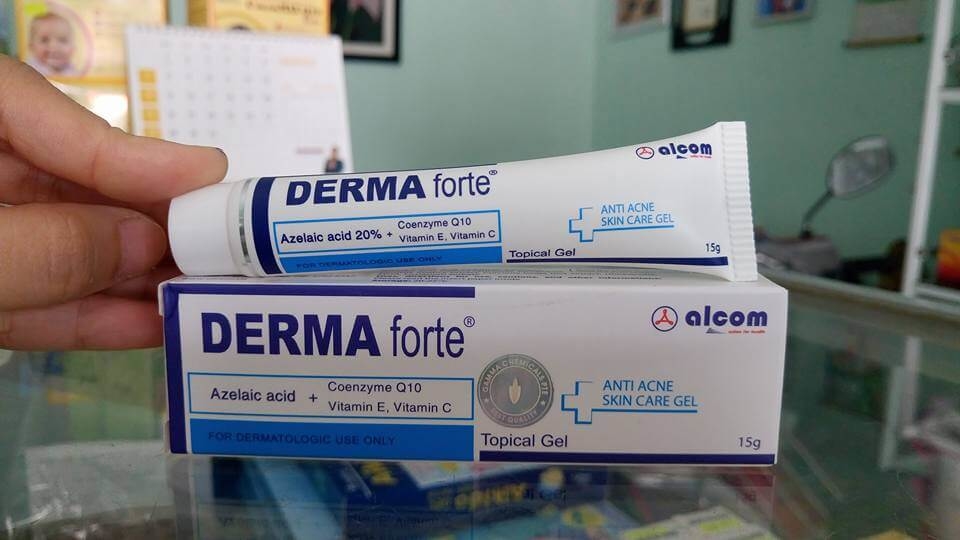 3. Usage Derma Forte:
Derma Forte is indicated for the treatment of acne in cases of mild to moderate inflammatory acne. In addition, also for those who want to treat dark after acne.  However, the time to achieve effect will not be fast, need to persevere for at least 1-2 months.
4. Dosage used:
The dose of the Derma Forte depends on the severity of acne, skin sensitivity and skin response to the first dose. Initially can be applied 1 time/ day in the evening or morning. After seeing the skin get used to it can be used 2 times/ day in the morning and in the evening. If dry skin can be used more moisturizer after Derma Forte cream. In the first times of use, it should be applied with a thin layer, after getting used to it can be increased dosage.
5. Direct perception
The packaging of the product is in white box, with blue letters written on the product information. The product is gel and has a mild fragrance, which is very pleasant. Products in the form of a tube should take the product quite easily. It is prepared in gel form, so it is also fast absorbent, does not cause squash or sticky. The first few times when applied to the skin may feel a little stinging, but in a few days it will get used to.
On the effectiveness of Derma Forte's anti-inflammatory, dry acne, keratosis and reduction of dark spots can be seen after a period of persistence, it can be up to 1-2 months, not quickly, so you need to be persistent.