Ivermectin is a medicine used to treat infections caused by certain parasites. It should be noted that the drug Ivermectin is not effective against adult worms.
1. What does Ivermectin do?
Ivermectin is indicated for the treatment of:
Fascioliasis and intestinal strongyloidiasis;
Intradermal scaly scabies associated with topical treatment;
Scabies in humans when previous topical therapy has been unsuccessful or contraindicated.
In particular, treatment with ivermectin is only performed when scabies is clinically proven and/or by parasitological examination. In the absence of a definitive diagnosis, treatment with ivermectin would not be appropriate in the case of patients presenting with mere pruritus.
2. Things to keep in mind when taking Ivermectin
– Do not use Ivermectin if you are allergic to ivermectin or any of the other ingredients.
– Before you start treatment with Ivermectin, tell your doctor about all of your medical history, especially: have a weak immune system (immune disorder), live in or visit parts of Africa (where there are cases of parasitic infections in humans with the filariasis Loa Loa (also known as eye worm).
– Using Ivermectin too much or not exactly as prescribed can lead to unwanted side effects.
It should be noted that Ivermectin is not used to prevent entry of tropical parasites and is not effective against adult parasitic worms. Ivermectin can only be used as prescribed by a doctor when there is evidence of parasitic infection.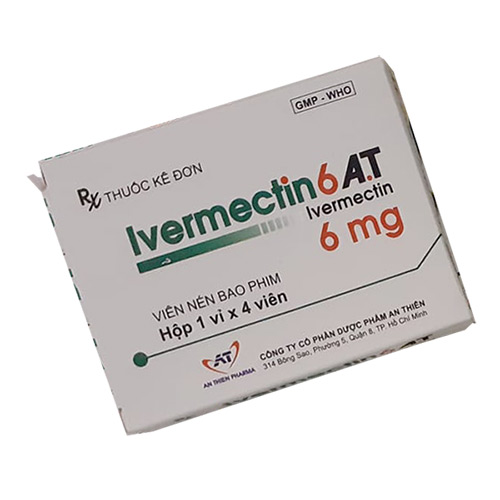 3. How to take Ivermectin?
Ivermectin is available as white, round tablets, packaged in aluminum blister packs. Patients need to take the medicine exactly as prescribed by the doctor or pharmacist, so ask again if you are not sure.
Ivermectin is taken orally. For children under 6 years of age, the tablet should be crushed before swallowing. Ivermectin should be taken with a full glass of water on an empty stomach and without eating anything for 2 hours before or after taking the medicine. The reason is because food can affect the absorption of drugs in the body.
Dosage of Ivermectin is dependent on the individual case:

– Treatment of gastrointestinal strongyloidiasis: The recommended dose is 200 μg of ivermectin per kg of body weight, administered orally as a single dose.
– Treatment of lymphatic filariasis due to Wuchereria bancrofti: The recommended dosage for mass filariasis campaigns is approximately 150 to 200 μg ivermectin per kg body weight, administered as a single dose, drink every 6 months/ time.
– Treatment of scabies in humans: 200 micrograms per kilogram of body weight. In some cases, it is difficult to determine whether the treatment has been successful for 4 weeks. At this point, your doctor may decide to add a second dose within 8 to 15 days. At the same time, the patient also needs to observe the progress of the treatment of scabies. At the same time, everyone in contact with the patient, especially family members, should also see a doctor as soon as possible. The doctor will decide whether these people should be treated at the same time. If infected contacts are not treated promptly, there is a risk of re-infecting the infected person after recovering from the disease.
4. Possible side effects when taking Ivermectin
Like all drugs, Ivermectin can cause certain side effects in users. Side effects are usually not serious and do not last long but may be more severe in people infected with certain parasites.
Possible side effects with Ivermectin are as follows:
– Sudden fever;
– Sudden skin reactions (such as rash, itching) or other serious skin reactions;
– Shortness of breath;
– Acute hepatitis;
– Changes in certain laboratory tests (elevated liver enzymes, increased blood bilirubin, increased eosinophils), blood in the urine, loss of appetite, stomach pain, constipation or diarrhea.
In a nutshell, Ivermectin is a prescription drug that belongs to the group of parasites, including strongyloidiasis, filariasis, and scabies.
Because of the possible risks from taking the drug, the patient should follow the doctor's instructions during treatment. At the same time, in order to improve the effectiveness of killing parasites, patients also need to perform well other supportive measures such as keeping body hygiene, eating cooked food and drinking and building a habit of periodic deworming for all members in family.