About Golden Star Balm (Cao Sao Vang Ointment).
Vietnamese balm "Golden Star" also know like Cao Sao Vang is a popular therapeutic preparation all over the world. Balm has a strong aroma and natural composition. It contains oils of peppermint, cinnamon, eucalyptus and ingredients of other oriental medicinal plants, which grow in ecologically clean areas of the country.
Aromatic balm Golden Star has a wide range of applications:
Сolds, flu, runny nose and cough;
Рeadaches, migraine, dizziness;
Rheumatism, aching joints;
Prevention of insect bites, itching and pain after a bite;
Relief of symptoms during seasickness, motion sickness.
Method of use is to apply a small amount of the ointment to the skin in the area of the neck, forehead, soles, under the nose, in the area of the bite. Inhalations with the drug are effective for colds. Aromatic balm "Gold Star" has pronounced analgesic, anti-inflammatory, soothing properties.
Cao Sao Vang balm has few contraindications, economical in consumption, does not irritate the skin, affordable. Packaging is convenient and easy to use, and the storage conditions are simple.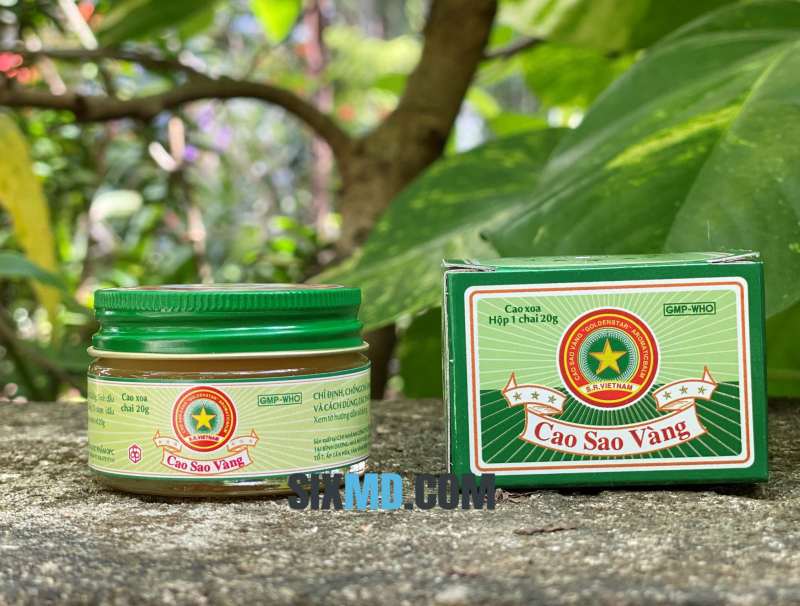 History of the appearance of Cao Sao Vang Golden Star Ointment
In the mid-20th century, the government of North Vietnam turned its attention to medicines made from natural ingredients available in the country. At that time, there was already a therapeutic ointment "White Tiger".
Aromatic balm Cao Sao Vang Golden Star differs from "White Tiger" with a slightly modified composition, a stronger spectrum of action. Balm was researched and improved, at the end of the 60s it was already widely used in the treatment and prevention of diseases.
"Golden Star Balm" gradually appreciated in many countries, thanks to the fact that the Vietnamese took the balm on trips and business trips, in reality demonstrated the effectiveness of the ointment. Not too fast, but an effective publicity stunt.
Already in the mid 70's tens of millions of packages of balm were being exported.
There was a significant decline in the production of balm at the end of the 20th century, but then the pharmaceutical companies of Vietnam recovered its position. Nowadays, Cao Sao Vang is sold all over the world, including in major online stores such as our SIXMD.
How to open ointment Cao Sao Vang?
When opening the package, you should carefully wipe the jar so your fingers do not slip if there are traces of balm on the lid.
Most common way to open is to twist the lid clockwise until it slides off. Another effective technique is to grasp the lid with your thumb and forefinger and rock it, gradually lifting it.
Sometimes they heat the package, but you should remember that the balm at high temperatures loses its therapeutic properties. You can put the jar on the edge, rolling it so that it deforms a little.