Hello everyone. In today's sharing, we will introduce you to the super product to treat cases of acne on thin, weak skin, sensitive, irritating as well as suitable for women pregnant or planning to become pregnant. Let's go.
1. What is Megaduo?
Megaduo has the same and different ingredients as Dermaforte. So why are Demar forte prescribed, in other cases Megaduo is prescribed? What are the common phenomena in these 2 products? Let's take a look at Megaduo's ingredients.
1.1. Azelaic acid: This is a component of AHA group, commonly used in the treatment of hidden acne, non-inflammatory acne. Azelaic acid is an organic acid, characterized by the ability to silver keratin, flake, dry pimples faster (when the top of the pimple breaks, the pimple emerges, gently squeezing the new acne out). The job of Azelaic acid is to make acneheads ripen faster. However, the effect compared with Retinoid or Defferin, Adapalene … will be much worse.
1.2. AHA (Alpha hydroxy acid): In Dermaforte, the main ingredient is Azelatic acid 15-12%, vitamin C and vitamin E. Particularly Megaduo instead of vitamin C with AHAs, AHA in Megaduo is Glycolic acid with 5% moisture. The characteristic is to change the mechanism of keratinization, which helps to ripen acne faster. If comparing between Megaduo and Dermaforte, Megaduo causes acne faster to ripen, more incidence of burning and irritation.
1.3. Squalane Squalane acts like the skin's natural moisturizer and helps to moisturize shallowly. When using types of AHA or treatment in general in treating acne such as vitamin acids, Retinol, skin whitening products, the common feature of drying the skin means dehydration because it makes acne breakouts, like artificial dry skin
1.4. Sodium Hydroxide: This is a derivative of hyaluronic acid, which helps the product to add moisture and limit the side effects of the product's dry skin.
The four ingredients above are Megaduo's four most favorite ingredients. Although they have similarities, Megaduo and Demarforte's nature have differences.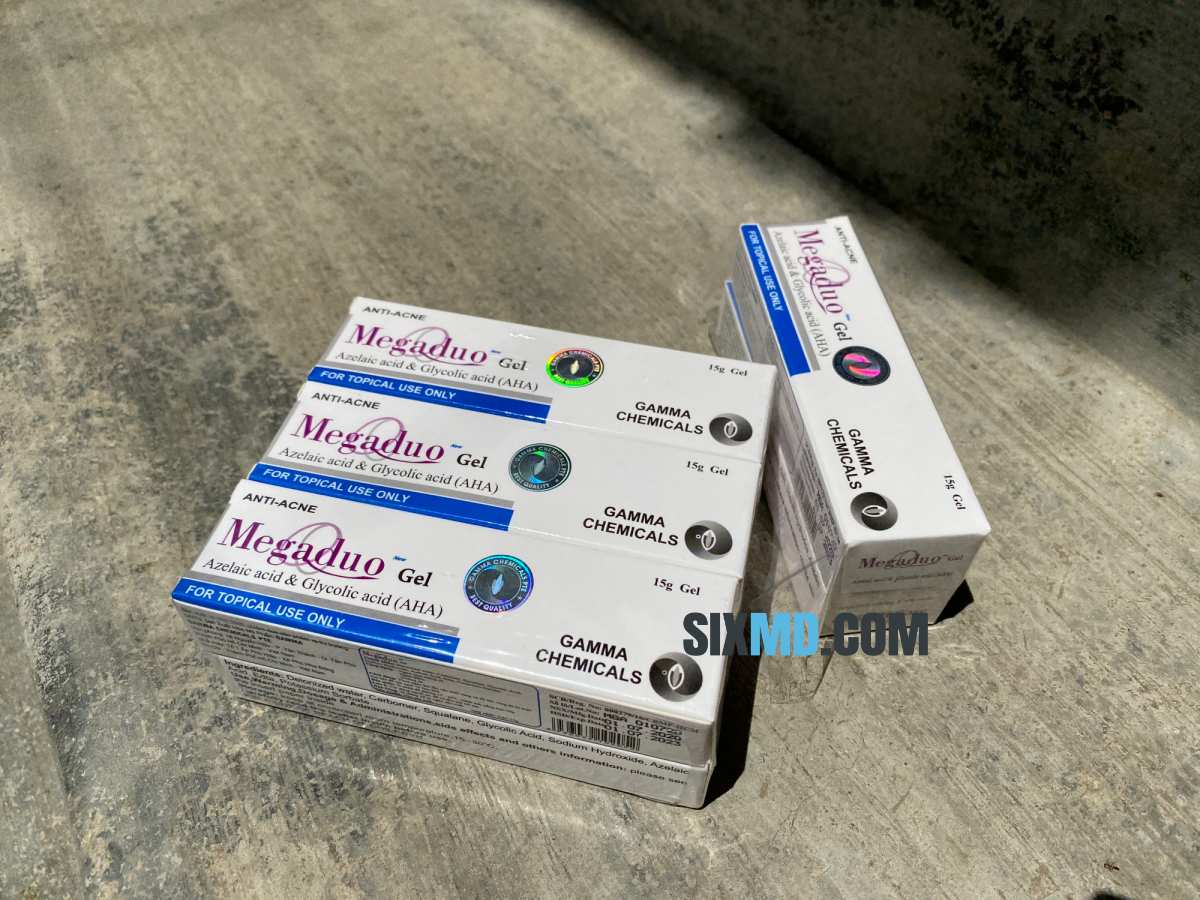 2. Where should I use it?
2.1. Sensitive Skin Make sure your skin is of the sensitive skin line. During the first month, the skin is usually sensitive. For Retinoids, Defferin or vitamin acid derivatives, BHA generally makes the skin more sensitive. Indications of the Megaduo line in the treatment of acne are hypersensitivity to related components vitamins A and BHA. Hypersensitivity means you experience a 3-time continuous irritation to a vitamin acid product. When applied to the skin, the skin becomes red, itchy, and burning for more than 15 minutes. The solution is to switch to Megaduo as the first solution however is that the treatment is slower.
2.2. Combination of acne and darkening treatment: this acid is a chemotherapy for bruising, but in the stage of treatment, it is best early or completely late. Early means that during the acne treatment you are planning to add darkening, or are not economical enough to apply other methods.
2.3. Use for pregnant women: According to research shows that, ingredients in Megaduo are almost not recorded related to complications of pregnancy, used during pregnancy.
3. Review Megaduo Gel.
Megaduo's interface is a white box and blue text. A genuine product identifier is the company's stamp that will be affixed to the body of the box. Megaduo is a gel type, 15g tube. If used as directed, each time will be 0.5 g. Therefore, with a frequency of 1 time/ day, the tube will be gone within 1 month, but if the frequency is 2 times/ day, the tube will only be used in 15 days. Depending on how often you use the tube, it can be used in 15-30 days.  Each course will process 3 – 4 tubes.
The internal design is similar to Dermaforte, with a white silk film. Smell just like Demrforte. When you get out, your hands will feel absorb slow, not deep, if left for a long time without moisturizing. Especially when sitting in the air conditioner or the skin loses moisture quickly forming streaks like white streaks on the face.
This is a common feature of gel products.  However, the advantage of the gel form is that it does not obstruct the hair follicle, applying it to feel cool and airy.
4. Usage:
• Apply Megaduo in the morning: 1 time/ day, after serum and after sunscreen.
• Apply Megaduo in the morning and evening: 2 times/ day, after serum and before moisturizer