1. Overview of Derma Forte
Derma Forte is a product of Gamma Chemicals, a Vietnamese medical manufacturing company, which is recommended and prescribed by dermatologists in the treatment of skin problems.
Derma Forte uses Azelaic Acid as its key acne treatment ingredient. This is considered a miracle drug in treating acne, helping to bring back healthy glowing skin.
2. Analysis of the ingredient table, the risk of irritation
Ingredients: Deionized Water, Azelaic Acid, Ascorbic acid (Vitamin C), Tocopherol (Vitamin E), Collagen, Ubiquinone (Coenzyme Q10), Carbomer, Squalane, Centella Asiatica Extract, Curcuma Longa Root Extract, Glycolic acid, Sodium Hydroxide, Edta, Potassium Sorbate.
• Azelaic Acid 20%: is an AHA active ingredient. It has fast astringent properties, dries acne, reduces acne, inhibits the treatment of dark spots very well, it can be said to be versatile and perfect. However, studies all agree that the concentration of Azelaic Acid must be 15-20% for it to have a noticeable effect in treating dark spots and acne, exactly equal to the minimum level that Derma Forte reaches (20%). Also for that reason, Derma Forte works very slowly, not as fast as the general psychology wants.
• Vitamin C: is an ingredient that helps to beautify the skin from the inside out, reduces irritation, restores flaky, damaged skin caused by acne.
• Vitamin E: ester form that penetrates well, providing moisture without clogging the skin. In addition, it has anti-aging and anti-oxidant effects on the skin.
• Coenzyme Q10: Found in meat, fish and grains. It has an antioxidant effect, protects the skin from harmful agents.
 Risk of irritation
Azelaic Acid is an active acne treatment, so it can cause dry, itchy, and flaky skin for sensitive skin but this is a good sign for the skin because then the acne will decrease quickly, the skin will recover and be healthier.
The feeling of applying to the skin will generally be a bit cool, with sensitive skin it may sting but the level is very mild. In general, in the scientific reports as well as the opinions of experts, there are almost no unfortunate consequences when using Derma Forte.
This is a benign acne gel that is recommended by doctors, even specially for cases of sensitive, easily irritated skin, pregnant women…
3. Uses of Derma Forte
Derma Forte has the effect of treating dark spots and skin pigmentation disorders, can be used for all types of acne, including swollen and inflammatory acne, but has the best effect on whiteheads, pushing blackheads, acne in mild or very mild condition.
In addition, Azelaic Acid in Derma Forte has the effect of thinning the horny skin, helping to rejuvenate the skin, making it stronger and brighter. That's why beauty bloggers or experts often use weekly Azelaic Acid to maintain healthy and glowing skin and Derma Forte can be applied full face safely.
In fact, Azelaic Acid does not have a strong peeling effect like other active ingredients, such as the Retinoids in Differin. Instead, Azelaic Acid will work slowly.
When using, you will see the acne spots, dark spots gradually fade, the skin color is gradually even and bright. But according to studies, the expected level of anti-aging products from Azelaic Acid will not be too high. The ability to treat dark spots will follow a parabolic chart, which means it feels fast at first, but it peaks not high and slows down. 
4. Can Derma forte be used by pregnant women?
Derma Forte can be used by pregnant and lactating women. Not only that, the gentleness also makes it the ideal product for pregnant women.
Azelaic Acid is an active ingredient that is considered very safe and does not harm the fetus. The ability to penetrate the skin of this active ingredient is not as strong as Benzoyl Peroxide or BHA. Therefore, it is very safe to use for the above objects. Doctors often prescribe this gel for people with mild or dark acne problems.
Of course, like any other skin care product, you should still consult your doctor before using it. Doctors will advise specifically for each individual, much better trial based on guesswork.
5. How is the actual test?
The product has a pleasant light fragrance and is quickly absorbed, the gel form of the product also immediately creates a greasy, squeaky feeling on the skin. Gel properties are slow penetration. If applied from the morning, at noon, you will have a feeling of hissing in this gel, similar to the feeling of having stains on your face. It is due to the precipitating properties of gel products.
With light dark spot, it fade quickly. However, the dark spot have not completely improved after this time, but after about 1 month of continuous use, the light dark spot caused by acne will completely disappear.
The total time to use to completely remove dark spots is 2 months, after 2 tubes, especially longer with perennial dark, some take too long to go away completely.
Derma Forte has the ability to treat dark spots but is not sensitive, can prevent acne from returning, is used quite smoothly with a little stinging and does not cause any unfortunate side effects.
However, the acne treatment effect of the product is not obvious. Due to the average Azelaic Acid activity of 20%, Derma Forte is only suitable for skin with little or very little acne, cystic acne, common whiteheads.
Therefore, it can be seen that the product is more suitable for treating dark spot than acne, even though it has the name … acne gel. If your acne is more severe or complicated, you can use more severe acne gels and creams, containing BPO, high-pharmaceutical products such as Differin, Megaduo… for treatment before using Derma Forte to treat problems with blemishes or whiteheads, acne has resolved, which is the last step in the acne process.
In terms of speed, products like Differin are much more effective than Derma Forte. The majority of users report that the product is NOT EFFICIENT when treating acne because their acne is too severe for the product's medicinal properties of Azelaic Acid, and they do not know how to combine other acne products to treat acne on their skin.
In addition, the product has the ability to push blackheads quite well.
6. Compare Derma Forte with Megaduo and Differin
A legend in the acne treatment industry, Derma Forte is often compared to Megaduo and Differin, two very effective cosmeceuticals also recommended by dermatologists. Users often confuse these 3 acne gels with each other.
 

6.1. Derma Forte and Megaduo: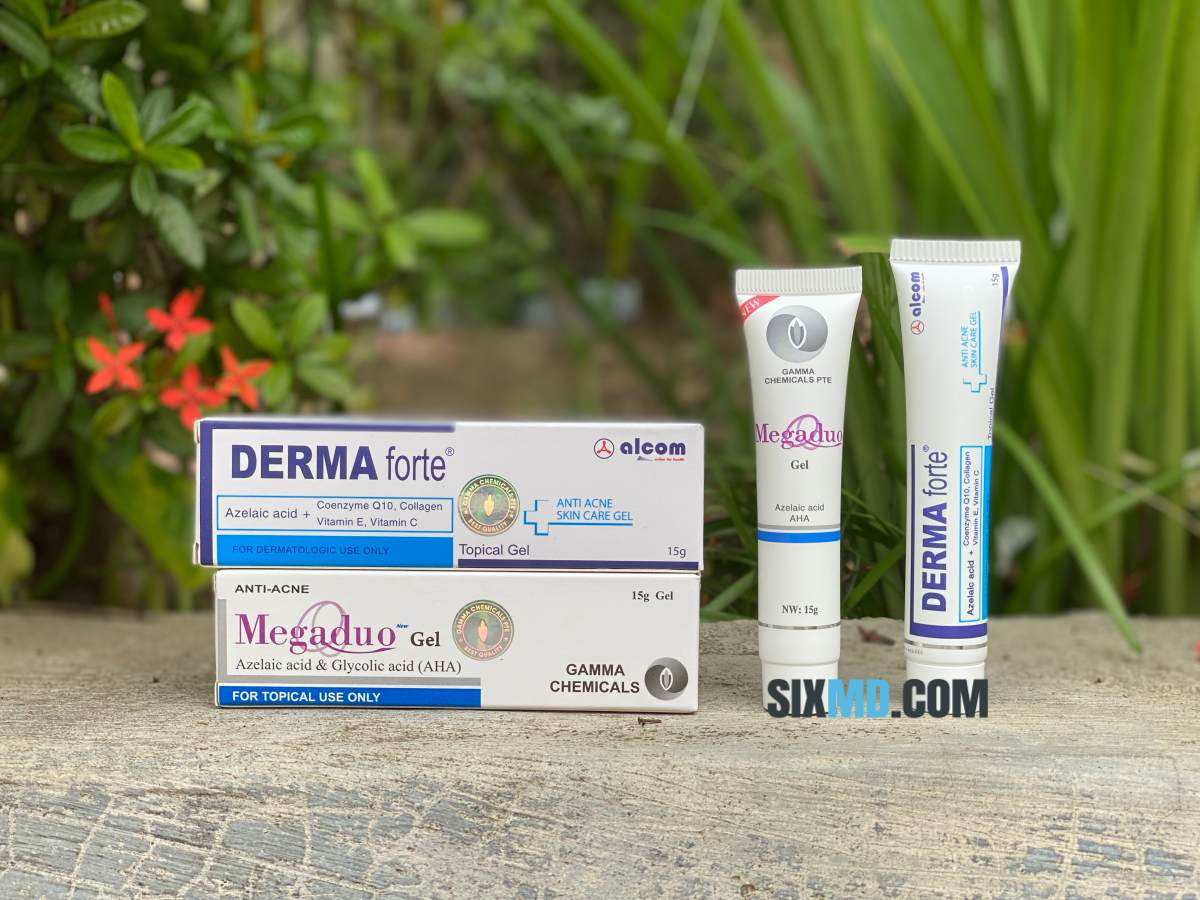 Two types are 90% similar. They are all derivatives of 20% Azelaic Acid with similar anti-acne and darkening effects.  When simply sniffing, you will not be able to distinguish these two types because they are simply too similar. Packaging is also white, small, even the net weight is the same 15g.
However, the vitamin C content in Megaduo is higher than that of Derma Forte. This leads to Megaduo's ability to repair damage higher than Derma Forte, but also a greater chance of irritation. In return, the care and recovery effect of Megaduo's damaged skin is better. 
Besides, the effect of keratosis pilaris in Megaduo is higher than that of Derma Forte because the structural mechanism is slightly different. In Derma Forte, the main ingredient is 15-20% Azelaic Acid, Vitamin C and Vitamin E, but Megaduo is special in that it replaces Vitamin C with AHA, and the AHA used in Megaduo is Glycolic Acid with a concentration of about 5%. When Azelaic Acid mixes with AHA, it will have one more mechanism, creating a synergistic effect to help the ripening effect of Megaduo faster.
In short, Derma Forte is more suitable for sensitive skin, more nourishing, sensitive skin should use Derma Forte first. If your skin is healthy, acne is more severe, you can use Megaduo to speed up the effect.
 

6.2. Derma Forte and Differin: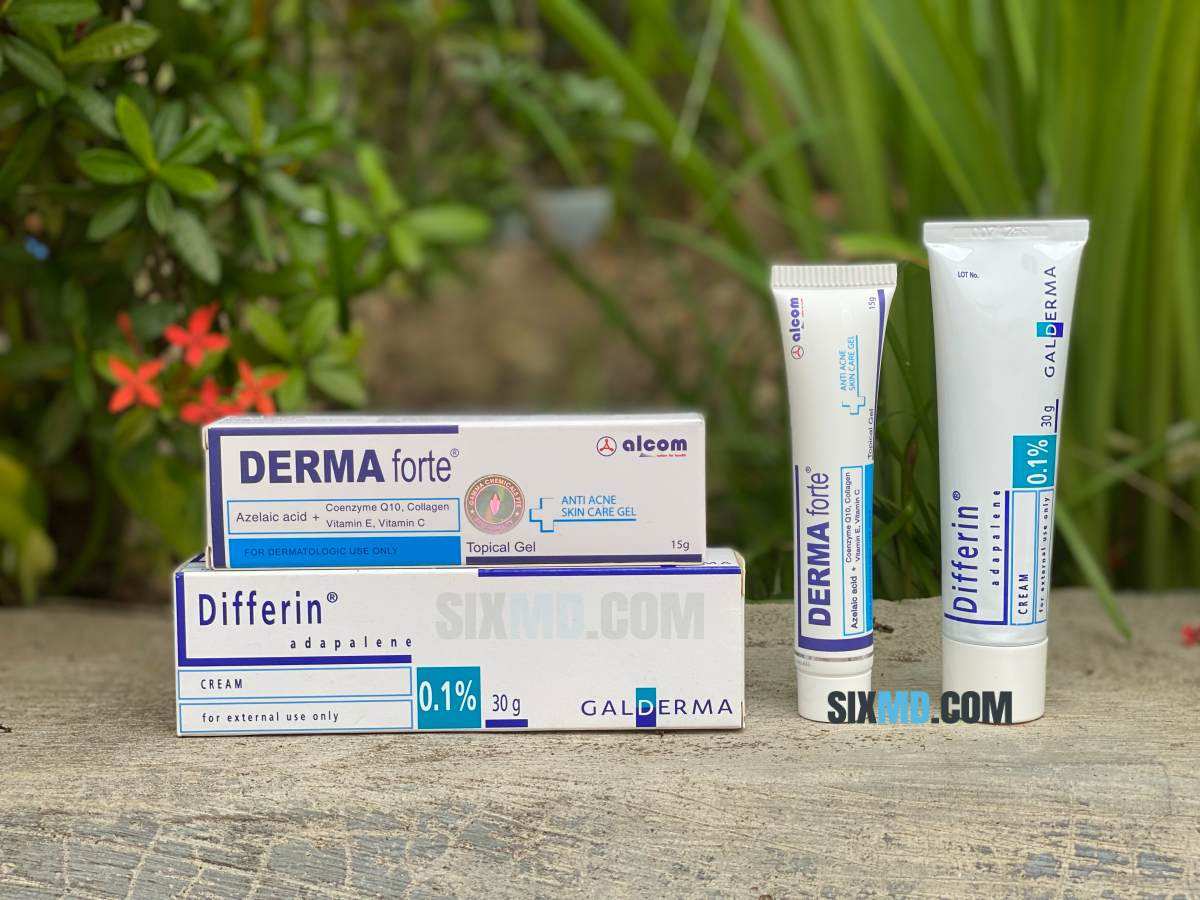 If Differin acts on comedones, eliminating acne well, with acne hidden inflammatory acne (but with severe inflammatory acne, Differin is not really effective), then Derma Forte has the ability to effectively treat dark spots. Therefore, they can be combined with each other.
 + If acne is mild or very mild, one of two products can be enough.
 + If acne is more severe, should combine them together. Because the level of irritation of the two products is very low, you can alternate the day. For example, apply Differin in the morning, apply Derma Forte in the afternoon, apply Differin in the evening and opposite.
In addition, in case of relatively severe or severe acne, cystic acne, inflammatory acne, you can use the whole face, with both Derma Forte and Differin. This duo can be applied to the whole face without any problems. Particularly with Derma Forte, the composition contains Azelaic Acid, which has the ability to treat skin pigmentation, completely long-term application. Meanwhile, Differin has very good antioxidant capacity.
However, with this method, you need to be patient, sometimes it takes up to 6 months to have noticeable results.
Read more articles:
Why should you choose Derma Forte in acne treatment support
Megaduo Gel – Product to treat acne and dark spots for sensitive skin
3 Unexpected benefits from turmeric cream
What you need to know about Tretinoin